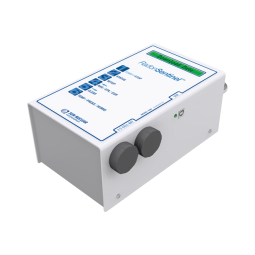 ◤OVERVIEW
Model 1030 is our most sensitive professional grade Continuous Radon Monitor. The 6-chamber design paired with our most advanced detection algorithm allows for the lowest measurement uncertainty while further decreasing measurement noise and preventing radio frequency interference.
Model 1030 is NRPP-, C-NRPP, and NRSB-approved. It provides even more test setup and programming flexibility than Model 1028 as well as the ability to store two test data sets with up to 1,650 data points. In addition to a standard tamper sensor and programmable PIN protection, this monitor comes with on-board humidity, pressure, and temperature sensors.
It is fully compatible with our OneRADON Software suite for desktop and mobile applications (adapters required), for complete test analysis and report generation. Model 1030 comes ready for use with a calibration certificate, power supply, and USB cable.
Multi solid-state detector for highest precision
OneRADON for desktop, mobile** and cloud-enabled
Onboard environmental sensors
Integrated tamper sensors and tripod mount
Dual test storage, 300h battery life
** Adapters required
Radon Detection
Classification: Active Continuous Radon Monitor
Type: Solid State Photodiode Detector
Detector Design: Passive Airflow Diffusion
Chamber #: 6
Range: 0.1 - 9999 pCi/L
Nominal Sensitivity: 15 cph per pCi/L
Background Typical: 0.2 pCi/L
Background Max: 0.5 pCi/L
Uncertainty (1 day, 1 sigma)*: 3%
*ANSI-AARST MS-PC 2015