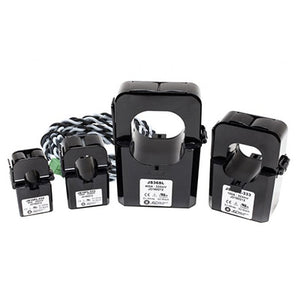 ◤OVERVIEW
Split-core CTs from J&D Sensing offer a well constructed hinged body and are accurate to +/-1% from 1%-100% of their stated current rating. The small interval for physical size options (10mm/0.39″, 24mm/0.94″, and 36mm/1.42″) allow for a flexible installation. Each CT size has a hinge and clipping mechanism, making it easy to close the CT in tight situations.
Multiple current ratings
Small size, light weight
Simple installation
Overvoltage protection circuit
Pin-hinged at pivot point
In what environment does this sensor operate?
This sensor operates in an indoor environment.
What measurements does this sensor support?
The T-EG-xxxx-xxxx sensor supports the following measurements:AC Current and Amps (A)
Technical Specifications
333 mVrms at rated output
Accurate within 1% from 1% to 100% of rated amperage
Operates 50Hz/60Hz
Maximum primary insulation up to 600 Vrms
8′ twisted pair lead with CT connector
| Model | Description | Price |
| --- | --- | --- |
| T-EG-0390-0050 | 50 Amp Split-core CT (0.39″ opening) | $35.00 |
| T-EG-0390-0075 | 75 Amp Split-core CT (0.39″ opening) | $35.00 |
| T-EG-0630-0050 | 50 Amp Split-core CT (0.63″ opening) | $35.00 |
| T-EG-0630-0100 | 100 Amp Split-core CT (0.63″ opening) | $35.00 |
| T-EG-0940-0100 | 100 Amp Split-core CT (0.94″ opening) | $46.00 |
| T-EG-0940-0200 | 200 Amp Split-core CT (0.94″ opening) | $46.00 |
| T-EG-1420-0400 | 400 Amp Split-core CT (1.42″ opening) | $47.00 |
| T-EG-1420-0600 | 600 Amp Split-core CT (1.42″ opening) | $47.00 |
| Model | A | B | C | D | E | Opening |
| --- | --- | --- | --- | --- | --- | --- |
| T-EG-0390-XXXX | 1.59" | 0.91" | 0.93" | 1.05" | 0.57" | 0.39" |
| T-EG-0630-XXXX | 1.77" | 1.02" | 1.18" | 1.24" | 0.74" | 0.63" |
| T-EG-0940-XXXX | 2.56" | 1.48" | 1.77" | 1.33" | 0.83" | 0.94" |
| T-EG-1420-XXXX | 3.24" | 1.89" | 2.25" | 1.58" | 0.83" | 1.42" |