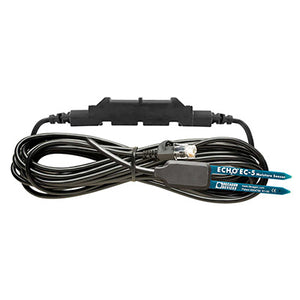 ◤OVERVIEW
This affordably-priced soil moisture sensor offers a two-tine design for easy installation. In addition, the EC-5 is a smart sensor, allowing users to launch monitoring systems quickly, easily, and affordably. Since HOBO data loggers recognize this sensor, no complicated programming or setup is required. The EC-5 integrates with the field-proven ECH2O™ Sensor and a 12-bit A/D. It provides ±3% accuracy in typical soil conditions, and ±2% accuracy with soil-specific calibration. Readings are provided directly in volumetric water content. This sensor is designed to maintain low sensitivity to salinity and textural effects.
Also available in a wireless model for use with the HOBOnet Field Monitoring System.
Measures a 0.3-liter volume of soil
High-frequency (70 MHz) circuit provides good accuracy even in high-salinity and sandy soils.
Compatible with Onset stand-alone and web-based weather stations
In what environment does this sensor operate?
This sensor operates in an outdoor environment.
What measurements does this sensor support?
The S-SMC-M005 sensor supports the following measurement: Soil Moisture
Measurement Range:
。In soil:0 to 0.550(m³/m³)
。Extended range:-0.401 to 2.574 m³/m³ (full scale)
The sensor is capable of providing readings outside the standard volumetric water content range. This is helpful in diagnosing sensor operation and installation. See the Operation section below for more details.
Accuracy:±0.031 m³/m³ (±3.1%) typical 0 to 50°C (32° to 122°F); ±0.020 m³/m³ (±2%) with soil specific calibration.
This is a system level accuracy specification and is comprised of the ECH2O probe's accuracy of ±0.03 m³/m³ typical (±0.02 m³/m³ soil specific) plus the smart sensor adapter accuracy of ±0.001 m³/m³ at 25°C (77°F). There are additional temperature accuracy deviations of ±0.003 m³/m³ / °C maximum for the ECH2O probe across operating temperature environment, typical <0.001 m³/m³/°C. (The temperature dependence of the smart sensor adapter is negligible.)
Resolution:0.0007 m³/m³ (0.07%)
Soil probe dimensions:89 x 15 x 1.5 mm (3.5 x 0.62 x 0.06 in.)
Weight:180 grams (6.3 oz)
Decagon ECH2O probe part No.:EC-5
Sensor operating temperature:0° to 50°C (32° to 122°F).
While the sensor probe and cable can safely operate at below-freezing temperatures (to -40°C/F) and up to 75°C (167°F), the soil moisture data collected at these extreme temperatures is outside of the sensor's accurate measurement range.
Volume of influence:0.3 liter (10.1 oz)
Sensor frequency:70 MHz
Bits per sample:12
Number of data channels:1
Note:A single smart sensor-compatible HOBO logger can accommodate 15 data channels and up to 100 m (328 ft) of smart sensor cable (the digital communications portion of the sensor cables)
Measurement averaging option:No
Cable length available:5 m (16 ft)
Length of Smart Sensor network cable:0.5 m (1.6 ft)
– The CE Marking identifies this product as complying with all relevant directives in the European Union (EU)