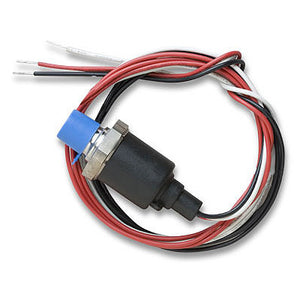 ◤OVERVIEW
The 100-psig Ashcroft Gauge Pressure Sensor provides precision pressure measurements in compressed air systems, water, or other compatible gases and fluids with an accuracy of ±1% FS from -20° to 85°C (-4° to 185°F) and only ±1.5% FS -40° to -20°C and 85° to 125°C (-40° to –4°F and 185° to 257°F) . This sensor requires the FlexSmart Analog Module.
Requires analog port selection during U30 system configuration and use of a S-FS-CVIA when using the H22-001 data logger. When using a U12 data logger, this sensor requires an 0-5 Vdc analog input cable (CABLE-ADAP5) and external power provided by an AC adapter (AC-SENS-1).
High-performance pressure transducer for industrial applications.
1/4″ NPT stainless-steel pressure connection.
In what environment does this sensor operate?
This sensor operates in an indoor environment.
What measurements does this sensor support?
The T-ASH-G2-100 sensor supports the following measurement:Gauge Pressure
Measurement ranges:100, 200, 500 psig
Compensated temp range:-40° to 125°C (-40° to 257°F)
"Accuracy:
。±1% FS from -20° to 85°C (-4° to 185°F)
。±1.5% FS -40° to -20°C and 85° to 125°C (-40° to –4°F and 185° to 257°F)"
Non-linearity:less than ±0.1% of span typical
Non-repeatability:less than ±0.03% of span typical
Hysteresis:less than ±0.01 of span typical
Stability:less than ±0.25% of span/year
Durability:tested to 50 million cycles
Overpressure:200% FS
Response time:less than 1 msec
Power:9-36 VDC, 5mA
Operating temp range:-40° to 125°C (-40° to 257°F)
Operating humidity range:0 to 100% RH, no effect
Output signal to FlexSmart module:0-5 VDC, 3 wire
Insulation breakdown voltage:100 VAC
Insulation resistance:greater than 100 megohms at 100 VDC
Construction:Shielded cable, 24 AWG, PVC jacket, 1-meter
Pressure connection:1/4" NPT 304 stainless steel
Sensor material:17-4PH stainless steel
Housing material:20% glass reinforced nylon, fire retardant to UL94 V1
CE compliance:Per EN 61326:1997 + A1:1998 + A2:2001, Annex A (Heavy Industrial)
Dimensions:2.9 cm diameter x 6.4 cm long (1.15 in. diameter x 2.5 in. long)
Outer cable diameter dimension:0.21 in. (5.4-mm)
Weight:89.4g (3.15oz)
Number of data channels:1