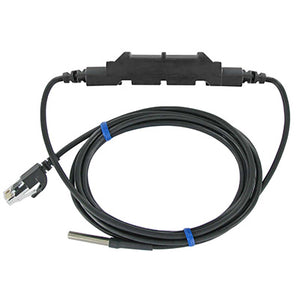 ◤OVERVIEW
The 12-bit Temperature Smart Sensor provides < ± 0.2° C total accuracy (< ±0.36° F) and resolution of < ± 0.03° C (< ±0.054° F) over the range of from 0° to 50° C (32° to 122° F). The full measurement range is -40° to 100° C (-40° to 212° F). A selectable measurement-averaging feature further improves accuracy. Reliable service is assured by a stainless steel sensor tip and robust cable rated for immersion in water up to 50° C for up to one year. This model has a cable length of 6m.
Also available in a wireless model for use with the HOBOnet Field Monitoring System.
Measurement range of -40° to 100°C (-40° to 212°F)
Stainless steel sensor tip
Sensor and cable rated for immersion in water or soil up to 50°C for up to 1 year
In what environment does this sensor operate?
This sensor operates in indoor, outdoor and underwater environments.
What measurements does this sensor support?
The S-TMB-M006 sensor supports the following measurements:Temperature and Water Temperature
Measurement range:-40° to 100°C (-40° to 212°F) sensor tip*
Accuracy:< ±0.2°C from 0° to 50°C (< ±0.36°F from 32° to 122°F)
Resolution:< ±0.03°C from 0° to 50°C (< ±0.054°F from 32° to 122°F)
Drift:< ±0.1°C (0.18°F) per year
"Response time (to 90% of change): < 3 minutes typical to 90% in 1 m/sec air flow < 30 seconds typical to 90% in stirred water"
Measurement averaging option:Yes
Environmental rating:Waterproof sensor tip and cable rated for 1-year immersion in water up to 50°C
Housing:Stainless steel sensor tip
Dimensions:5.1 x 33 mm (0.2 x 1.3 inches)
Approximate weight:100 g (1 oz), 310 g (4 oz), 880 g (12 oz) — varies with cable length
Cable length:6.0 m (19.7 ft)
Number of data channels:1
Length of Smart Sensor network cable:0.5 m (1.6 ft)
* Sensor tip and cable immersion in fresh water up to 50°C (122°F) for one year. Cable electronics are rated for up to 75°C (167°F). Radiation Shield strongly recommended for use in sunlight (part # RS3)
– The CE Marking identifies this product as complying with all relevant directives in the European Union (EU)