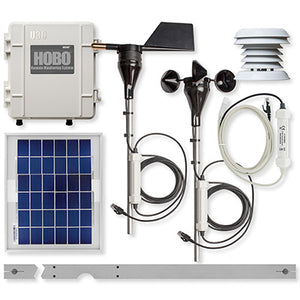 ◤OVERVIEW
The HOBO Weather Station Starter Kit combines our most rugged data logging weather station with out-of-the-box convenience.
The U30/NRC accepts up to 10 plug-and-play Smart Sensors. Just plug in your sensor and it's automatically recognized – no programming, wiring or calibration necessary. With this kit you can measure temperature, relative humidity, wind speed/direction. Simply select the HOBO Weather Station starter system and your choice of either a 2-Meter or 3-Meter Tripod Kit and go!
Software ordered separately. Compatible with HOBOware and HOBOware Pro software for logger setup, graphing and analysis.
貨號: U30-NRC-SYS-C
HOBO U30 NRC data logger with 10 inputs (U30-NRC-000-10-S100-000 )
5W Solar Panel – SOLAR-5W
Temperature/RH Smart Sensor with 2-meter cable – S-THB-M002
Wind Speed Smart Sensor with 3-meter cable – S-WSB-M003
Wind Direction Smart Sensor with 3-meter cable – S-WDA-M003
Full Crossarm for Wind Speed/Direction sensors – M-CAA
Solar Radiation Shield for Temperature & RH sensor – RS3-B
In what environment does this kit operate?
This kit operates in an outdoor environment.
What measurements does this kit support?
The U30-NRC-SYS-C kit supports the following measurements: Barometric Pressure, Leaf Wetness, Light Intensity, Rainfall, Relative Humidity, Soil Moisture, Temperature and Wind
Normal operating range:-20°C to 40°C (-4°F to 104°F)
Extended operating range:-40 to 60°C (-40 to 140°F) – see "Rechargeable Battery service Life" for impact of operations in Extended Operating Range.
Sensor Inputs:5 standard; option to expand to 10
Smart Sensor compatibility:Compatible with most Onset smart sensors, except for the S-BPA, S-TMA and S-THA
Data channels:Maximum of 15 (some sensors use more than one data channel)
Alarm output relay:Can be configured to be activated, deactivated or pulsed on user-defined sensor alarms. The relay can be configured as normally open or normally closed, and is rated for 30 V and 1 amp max.
Expansion slot:One expansion slot is available for factory-installed expansion port.
Local communication:Full Speed USB via USB mini-B connector
Size:17.8 H x 11.7 D x 19.3 W cm (7.0 H x 4 .6 D x 7.6 W inches)
Weight:2 kg (4 lbs 10 oz)
Materials:
。Outer enclosure:ABS blend with stainless steel hinge pins and bronze inserts
。Inner enclosure:Polycarbonate with bronze inserts
。U-Bolts:Steel with zinc dichromate finish
。Gaskets:Silicone rubber
。Cable entry channel:EPDM rubber
。Cable entry bars:Aluminum with ABS plastic thumb screws
Data storage memory:Nonvolatile flash data storage, 512K bytes local storage
Memory modes:Stop when full, wrap around when full
Operational indicators:Up to six (depending upon options) status lights provide basic diagnostics
Logging interval:1 second to 18 hours, user-specified interval
Battery type:4 Volt, 4.5 AHr or 10 AHr, Rechargeable sealed lead-acid
Rechargeable battery service life:Typical 3–5 years depending upon conditions of use. Operation within the extended operating range (but outside the normal range) will reduce battery service life.
Time accuracy:0 to 2 seconds for the first data point and ±5 seconds per week at 25°C (77°F)
Environmental rating:Weatherproof enclosure, tested to NEMA 6. (Requires proper installation of cable channel system)
Mounting:3.8 cm (1.5 inch) mast or wall mount
Enclosure access:Hinged door secured by two latches with eyelets for securing with user-supplied padlocks
Sensor network cable length:100 m (328 ft) maximum
External power:External power is required. The system optionally accepts the following Onset solar panels:SOLAR-1.2W, SOLAR-3W, SOLAR-6W. Alternatively it accepts an AC power adapter:AC-U30
Optional Analog Sensor Port Specifications
Input channels:Two, single-ended
Field wiring:Two- or three-wire via screw terminals on detachable connector, 16–24 AWG.
Replacement detachable connectors:Part of spares kit, Part No. A-FS-CVIA-7P-1
Input range:User-configurable:0–20 mA DC, 0-2.5 VDC, 0-5 VDC, 0-10 VDC, or 0–20 VDC
Minimum/maximum input voltage:0 / 24 VDC
Minimum/maximum input current:0 / 24 mA DC
Minimum current source impedance:> 20 KΩ
Accuracy:± 0.25% of FSR from 50mV to FSV
ADC resolution:12 bits
Excitation power:Switched 12 VDC, up to 50 mA; user-selectable warm-up from 5msec to 2 minutes